Photo from today outside Redbridge Clinical Commissioning Group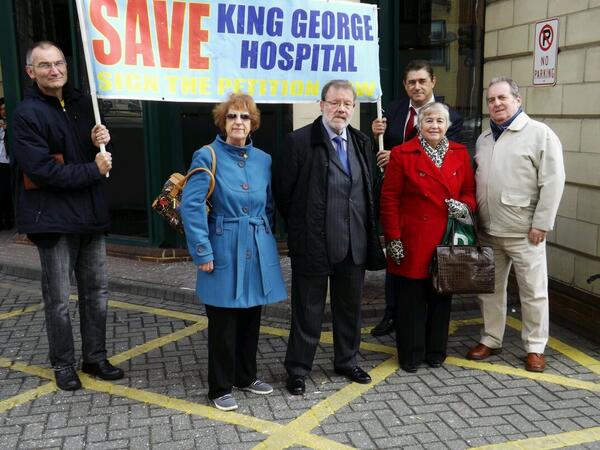 Thanks to Bob Archer for photo
Thanks to Councillors Fairley-Churchill and McGeary and Redbridge residents for attending.
The GPs made everyone welcome who wanted to speak, going out of their way to accommodate people by changing the agenda to let the public speak first to allow people to go after asking their questions rather than wait to the end of the meeting.
Valarie, a Redbridge resident made a passionate speech about how important King George Hospital is, her oratory drew a round of applause.
While no ground given by GPs on KGH A&E closure issue, GPs did appear to be concerned by the high bed occupancy rate at Queens hospital. This is an issue that needs to be kept under scrutiny as the CQC mentions a safe level of 85% and Queens was at 94% on March 16th.
GPs also appear concerned by BHRUT inability to provide waiting list figures. The responses to questions were detailed and I hope to be able to produce a note from the CCG of what was said in due course.
It is welcome that GPs are willing to have a dialogue with the public about the proposed closure of KGH A&E.